Occupational Safety and Health
Occupational Safety and Health
Due to the nature of construction industry, incidents at the worksites may have detrimental effects on the health and safety of our workers. We endeavor to comply with all relevant laws and regulations on labour, health and safety by routine evaluation of the hazards of our projects and work out feasible working procedures in a way convenient and effective to operators which are reviewed and updated periodically to maintain its effectiveness.
Number and rate of work-related fatalities
For every project, our on-site safety officer/safety supervisor will ensure that workplace safety procedures are adhered to by our employees and by the employees of our subcontractors in conjunction with the safety officers of the main contractors.
Our safety-related proactive and preventive measures are in place to eliminate and reduce occupational risks for our employees. To effectively manage and mitigate such health and safety risks, we carefully examine and analyse each potential hazard and actively engage with relevant stakeholders to develop and implement appropriate health and safety measures. According to our accident records in the past five years, we have identified that over 70% of the accidents occurred are due to imperfect site conditions. These site conditions, such as objects scattered around passageways or protruding rebars extended from partition walls, often lead to slips and trips in the workplace. To alert workers of potential workplace hazards, we display site safety messages through digital screens at our sub-contractor's workshops so that workers can receive safety messages when reporting daily duties. We believe this can help enhance their site safety awareness and mitigate construction safety risks.
Following a staff survey, we found that majority of workers are reluctant to wear separate sets of safety goggles at work due to fogging and inconvenience. To tackle these problems, we have produced a helmet equipped with a retractable face shield which is less likely to cause fogging and is convenient for workers to carry at site. We have received a lot of positive responses from site workers on this new personal protective equipment.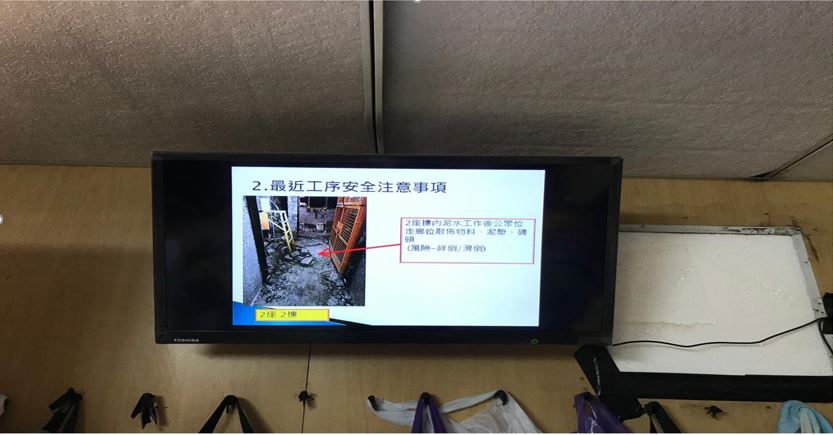 A display screen installed at every sub-contractor's workshop
A helmet equipped with a retractable goggle